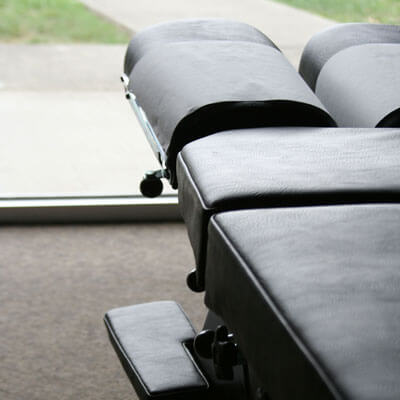 Here in Boulder we see a lot of travelers so Dr. Mike frequently refers them to chiropractors in other states.
"I'm adamant about referring individuals to chiropractors who always perform a thorough exam and assessment, which includes X-rays. So many times people go to a chiropractor and receive a minimal exam, but the chiropractor doesn't take a health history so they don't connect the dots and get the full picture," said Dr. Mike.
These chiropractors merely provide symptom relief or bandage care. We find that many times people's chief complaint isn't the primary issue; instead, it's compensation. Sometimes, you can dig down into their history and connect some dots such as past traumas (big or small) or repetitive stress they've had in their lives. Those types of issues likely started years ago and will indicate how long it may take to correct a patient's particular problem.
The Value of Long-Term Correction
We understand that getting out of pain is important to patients. However, if you're seeking long-term correction and an improvement in quality of life for years to come, it's essential that the root cause of your condition is identified. A lot of people can take NSAIDs and get out of pain very quickly, but those medications come with side effects and can present issues if you take them too often.
Why Thorough Care Is Important
As it's summer, many people travel through Boulder. We often get calls from vacationers saying that they normally get adjusted and are in town for a few days. They might say, "I just need an adjustment; is that okay?" Dr. Mike doesn't mind providing adjustments but if someone is not from here and needs to be under regular care Dr. Mike will find a chiropractor close to them that gives a comprehensive exam.
He recommends that people go to a chiropractor that does a thorough exam, takes their history, does a neurological and postural assessment, and takes digital X-rays (which will show you in real-time what's going on structurally and provide a real-time picture of what's happening). At our practice, we take X-rays because we say "to see is to know and not to see is to guess."
We also offer other technologies like the INSiGHT™ scanning that uses the three most essential measurements of neural-structural optimization. This tool involves non-invasive, painless measurements. The outcome assessment is what's called your COREscore for neural-structural optimization; the score is based on the following:
Heart Rate Variability
Surface Electromyogram (sEMG)
Spinal Thermography
"You don't want to have a chiropractor just palpate and say, 'here's where the issue is,' without doing a thorough exam and then adjusting the spine," said Dr. Mike. Instead, he prefers that you go to someone who is thorough and takes their time and provides customized care plan recommendations.
That approach will help you get well and stay well longer!